02/10/2017
New Executive Director Hired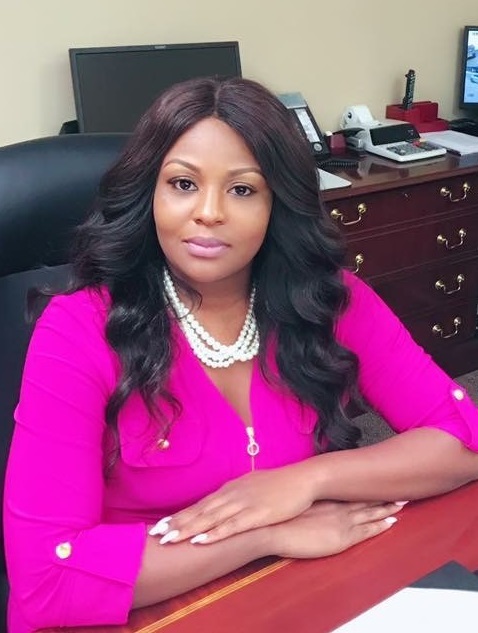 The new executive director of the Robeson County Housing Authority knows all the ups and downs of life in public housing.
She grew up in a housing authority complex in Maxton.
"I know the life of a public housing resident," Niakeya S. Jones said. "I was raised in one by my grandmother from the age of 2 until 21. Public housing is a close-knit community."
On Feb. 2 Jones took the Housing Authority's reins from interim Executive Director Jason King, who is Robeson County's assistant manager. King was named interim executive director in October 2014 after former Executive Director Ron Oxendine resigned from the position amid allegations of wrongdoing, including using federal money for his own benefit.
Jones commended the way King, the county commissioners serving on the Health Board, and the housing authority staff have worked to improve and move the authority forward in the absence of a full-time executive director. She is in charge of 290 units at four locations.
"I'm trying to enhance what we have now. I want us to continue to thrive," Jones said. "We are doing a good job, but I want us to do even better. I want us to become a high-performing housing authority. I want us to become a gold star housing authority."
One of the things she wants to accomplish is to change the perception people have of those who live in public housing, Jones said.
"As a child, I grew up with the idea that people viewed all those who live in public housing as being poor, criminals and drug users. That's definitely not the case," she said. "I want to change that perception of public housing."
Jones said she inherits a good situation.
"I'm glad the interim director and the commissioners got the authority to the level it is so I can take over comfortably and not have to start at zero," Jones said. "I feel good about this job. I love it so far, and I'm up for the challenge of moving the authority forward. I don't like the status quo."
According to its website, the authority oversees 110 units at Morgan Britt Park in Lumberton, 40 units at Benton Court in Rowland, 100 units at Westgate Terrace in Red Springs; and 40 units at McColl Page Plaza in St. Pauls,
Jones comes to the Housing Authority post after having served as Heath Education Division director for the Robeson County Department of Public Health for almost 15 years. In that position she established several working partnerships and programs for the county.
She has managed projects aimed at addressing "social determinants of health" to reduce health inequities, Jones said. In addition to providing grant management and project oversight, Jones has overseen administration of the Community Health Assessment and State of the County Health initiatives for Robeson County's health department.
Jones has received awards for her work in public health, including the Jeanne Palmer Health Educator Excel Award, presented by the Wellness and Prevention Center of the North Carolina Public Health Association; and the North Carolina Prevention Award for Excellence in Health, presented by the North Carolina Prevention Partners.
Jones received her bachelor's degree in community health education from The University of North Carolina at Pembroke and obtained a master's degree in Management from Troy University.
Professional associations and community organizations in which Jones has leadership roles include the Public Housing Authorities Directors Association, National Association of City and County Health Officials, Healthy Robeson Task Force, Robeson County Community Action Team, and Alpha Kappa Alpha Sorority, Inc.
Her experiences with the Robeson County Health Department have helped prepare her for the Housing Authority leadership position, Jones said.
"Public housing is all about public health," she said. "The people we serve are those who need public health resources.
"I already know the community and resources. By sitting on so many task forces, I know how to link residents to the resources they need."
The authority's office is at 100 Oxendine Circle. It can be reached at 910-738-4866. Information, including how to apply for housing, can be found at RobesonHA.org.
By Bob Shiles