07/23/2019
Robeson County Housing Authority Website Earns Regional Award
Orlando, FL – The Robeson County Housing Authority (RCHA) was awarded the 2019 Website of the Year in the Medium Public Housing category by the Southeastern Regional Council of the National Association of Housing and Redevelopment Officials (SERC-NAHRO) during the organization's annual conference held recently in Orlando, Florida. The website earned the SERC-NAHRO Website of the Year among several entries from housing authorities throughout a multi-state region.
SERC-NAHRO, a regional organization of Public Housing Authorities, is comprised of agencies from a 10-state area: Alabama, Florida, Georgia, Kentucky, Mississippi, North Carolina, South Carolina, Tennessee, Virginia and West Virginia.
RCHA developed the interactive responsive website, RobesonHA.org, to enhance communications with residents, staff, commissioners, and the community. The website, launched in December 2018, serves as the hub for the agency's internal and external communications.
The website features agency news, an event calendar, an interactive property map, and information on the housing programs offered by RCHA. The site provides convenient, digital access to resources including an online housing application, links to check wait list status, and pay online capabilities for residents.
"The RCHA website plays an integral role in our Housing Authority operations. The responsive site allows RCHA to communicate effectively with our stakeholders across all computer devices – desktops, laptops, tablets and smartphones. The site provides important news and updates for residents and improves the efficiency of our agency by streamlining processes. The website also allows us to provide digital resources and online forms, greatly reducing the amount of paper generated by our agency. We are honored to be recognized by SERC-NAHRO for our website," stated Niakeya Cooper, Executive Director of Robeson County Housing Authority.
The RCHA logo and website was developed working closely with Brooks Jeffrey Marketing, Inc. of Mountain Home, Arkansas. Brooks Jeffrey is a full-service communications and digital design firm specializing in government website solutions for housing authorities and law enforcement throughout the United States.
The Robeson County Housing Authority, a HUD-designated High-Performer public housing agency, provides affordable decent, safe, and sanitary housing opportunities to low and moderate-income families, including elderly and handicapped persons, while supporting programs to foster economic self-sufficiency. RCHA creates pathways out of homelessness through empowerment, education, and advocacy. For more information on housing assistance and programs, contact Robeson County Housing Authority at 100 Oxendine Circle Lumberton, NC 28360 or phone 910-738-4866. RCHA offices are open Monday through Friday 8:30 am to 5:00 pm EST or visit online at RobesonHA.org.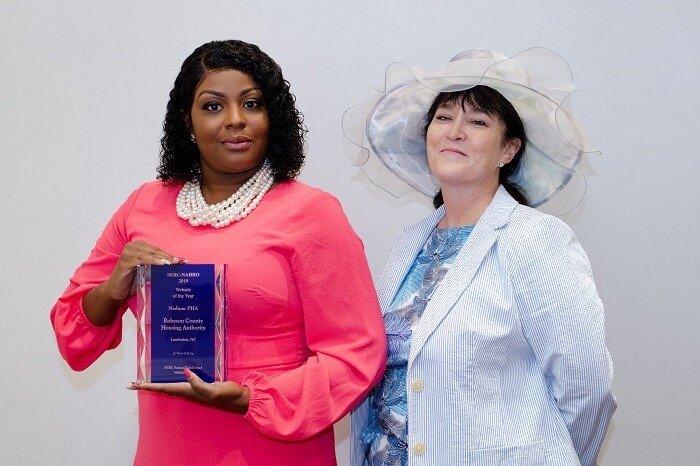 Niakeya Jones Cooper, Robeson County Housing Authority Executive Director and Jodie Elizabeth Jeffrey, Brooks Jeffrey Marketing Co-Owner, accepts SERC-NAHRO 2019 Website of the Year Award for the agency's website RobesonHA.org.
---
For more information, contact:
Niakeya Jones Cooper, Executive Director
Robeson County Housing Authority, North Carolina
100 Oxendine Circle, Lumberton, North Carolina 28360
910-738-4866 | njcooper@robesonha.org