02/19/2019
Niakeya Jones Cooper Completes Executive Director Education Program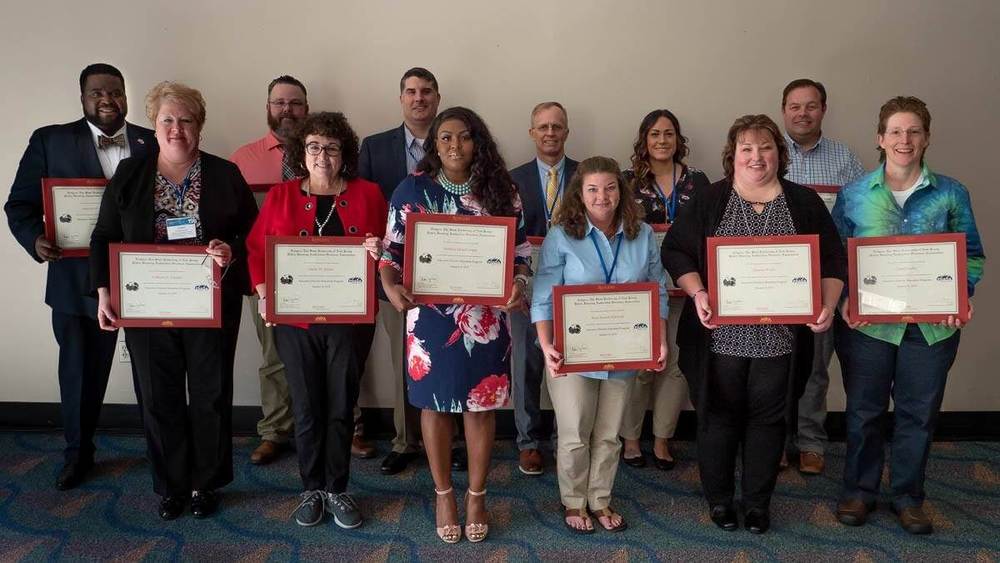 2019 EDEP graduates: Antonio Williams, Housing Authority of the City of Texarkana; Colleen Dattilio, Trumball Metropolitan Housing Authority; Derek Antoine, Knox County Housing Authority; Susan Minor, Franklin Housing Authority; Matthew Mills, Oklahoma City Housing Authority; Niakeya Jones Cooper, Robeson County Housing Authority; David Dellinger, Metropolitan Development and Housing Agency; Nora Joanne Holifield, Phil County Housing Authority; Amber Wiand, Mercer County Housing Authority; Dionne Wyatt, Macoupin County Housing Authority; Kevin Price P.H.M., Wrightsville Housing Authority; and Cheryl Lefler, Knox County Housing Authority.

PHADA's EDEP Program Continues to Grow
Article from Advocate, PHADA Publication, February 2019
On January 8, 2019, at the 2019 Commissioners' Conference in Miami, Florida, 17 students from all over the country graduated from the Executive Director Education Program (EDEP), including executive directors, finance directors, chief operations officers, and assistant directors, to name a few. EDEP is an executive certification program developed by PHADA and Rutgers, the State University of New Jersey. The program is modeled after a program in New Jersey that has been in place since 1994. Information on applying for the EDEP program can be found on PHADA's website at: www.phada.org
The EDEP program consists of a series of 10 courses, designed to reinforce the technical, managerial, and strategic competencies required of a successful executive director of a housing authority (HA). The program and its courses are re-designed regularly in order to appropriately reflect the current challenges and opportunities of the public and affordable housing arena. A list of the required courses, and short descriptions of each follow:
Executive Housing Management - the course provides HA officials with an overview of the general functions of executive management in a HA and how to perform them, familiarizes participants with the principles of managing change and people, and explores the role of an executive director in leading and motivating personnel.
Ethics – the course familiarizes participants with the ethical standards and legal requirements relevant to HA officials, including an examination of typical state statutes and Department of Housing and Urban Development (HUD) regulations, which are applied to ethical issues faced by executive directors using a case study approach.
Financial Management – the course provides an overview of financial management functions, including a "big-picture" approach to fiscal resource management, financial management advice based on practical experience, and current information related to asset-based budgeting and management.
Legal Issues - the course provides an overview of legal liabilities that accompany HA management and delves into the legal requirements and restrictions faced by HAs when dealing with such topics as contracts, tenancy, and evictions.
Maintenance Management - the course focuses on how to develop and implement a well-planned maintenance program, including scheduling, and inventory control, and offers a systems approach to improving efficiency and effectiveness related to maintenance operations in a project-based environment.
Personnel Management - the course familiarizes HA management with the principles of managing people to achieve established goals, provides personnel management tools, and explores the role of a leader.
Procurement and Contract Management - the course delivers a basic understanding of mandated procedures and accepted professional practices utilized in HA procurement, including contract negotiation, HUD requirements for small purchases, formal bidding, and "typical" state public contract law, for example. Internal controls for contract performance monitoring, and contract administration procedures are stressed, including the oversight role of the board of commissioners.
PHAS/SEMAP - the course offers a board understanding of the theory and application of the Public Housing Assessment System (PHAS) and the Section Eight Management Assessment Pro­ gram (SEMAP), including how the scores are calculated and utilized by HUD and how HA officials can use them as management tools with an emphasis on operational impacts and management implications.
Planning for Change - the course provides HA management with a basic understanding of strategic planning concepts and the critical elements of a successful planning process, placing emphasis on providing practical, useful guidance for organizations exploring and implementing new ways of doing business in the affordable housing sphere, including repositioning of public housing assets.
Public Relations/Communications - the course provides a clear understanding of the public relations role of the executive director and HA management, fostering confidence and ability in building good media relations in order to cultivate the understanding that good public relations can improve the overall image and effectiveness of the HA. The over view includes public relations tools and provides guidance on dealing with the media during a crisis situation
Courses are offered three times per year in conjunction with PHADA's conferences, including the Commissioners Conference in January, the Annual Convention in May or June, and the Legislative Conference in September. Participants should be able to complete the entire series of required courses within 18-24 months. The program touches on a significant amount of theoretical concepts, which are important, but focuses on an even more substantial amount of "nuts and bolts," or practical problem solving techniques, enhancing the knowledge, skills, and abilities of HA officials.
Additionally, the program provides two more meaningful benefits which are not found in any of the course descriptions above - the ability to network with your peers (both participants and instructors), and significant opportunities to discuss actual real-world scenarios at your agencies in a safe setting. In fact, Crystal Wojciechowski, policy analyst at PHADA, completed and graduated from EDEP in 2018. In her opinion, the ability to build meaningful relationships with HA peers over the course of the program is the most beneficial aspect of EDEP. While the EDEP program concludes after successful completion of ten courses, the relationships built over the 18 -24-month period provide long-lasting support and expertise to HA officials over the course of their careers and supports the professionalization of the industry over time.